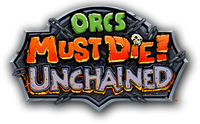 Orcs Must Die! Unchained is a 3rd-person Tower Defense Co-op action game in which teams of heroes battle to defend ancient strongholds, building traps to stop the enemy assault.
The game is created and developed by Robot Entertainment and will be available on PC and PS4. It was commercially released in April 2017.


Orcs Must Die! Unchained is set in the familiar world of its hilarious fantasy predecessors, years after the finale of Orcs Must Die! 2. With dozens of new rifts and worlds beyond them, heroes have come from far and wide to wage all-out war for control of these magical gateways. In the years since Orcs Must Die! 2, Maximillian and Gabriella have done their best to rebuild the once-mighty Order. Their new enemy, the Unchained, is no longer the mindless horde defeated twice before, but instead an organized army led by its own powerful heroes.

Killin' Orcs and Smashin' Dorks

Orcs Must Die!'s classic white-knuckle witch's brew of action and strategy returns, letting players team up with their friends to lay waste to millions of new invading monsters! Build an impenetrable gauntlet of traps to hack, grind, flatten, gibletize and incinerate foes before they charge into the heart of the rift!

It's Definitely a Trap


The only thing better than building traps for murdering minions is building more traps! Play to unlock traps, then upgrade them to be even deadlier. Players cover fortresses in gleeful torture devices and engineer a variety of hilarious and violent ends for invading minions. Customize a strategy for every battle. The hordes are no match for the powers of elements and physics!

Real Action Heroes

Are you mage enough to defend the rifts? A wide variety of unique and powerful heroes with deep gameplay options offer a plethora of painfully creative ways to stop orcs in their grimy tracks. Old friends Max and Gabriella return to fight alongside a cast of new heroes like Blackpaw, Hogarth, Stinkeye, and Bloodspike. Whether players prefer might and majesty or scum and villainy, there's a hero for every type of orc-slayer around.

Your Favorite Ways to Slay


Survival mode lets players murder their way to the top of the orc pile in 3-player co-op defense gameplay that every Orcs Must Die! fan will love. Weekly Challenges and Daily Quests give players the chance to unlock extra traps and upgrade parts. Long-time favorite Endless mode has returned in Orcs Must Die! Unchained with expanded 3-player co-op. All new Sabotage mode sets up two teams of three to troll each other with spells and bosses in an action-packed race to the highest score.

All New Sabotage!
Gamers ready for a trap-snapping, spell-slinging, ogre-spudging good time can look no further than Orcs Must Die! Unchained's new game mode, Sabotage! This fast-paced mode is a totally new way to play. Players assemble a team to defend their rift, but at the same time another team is playing on the same map in some… spooky… alternate dimension or something. These other players can distract your team with spells, minions, and huge bosses to make you lose rift points. But of course, players can pay 'em back by doing the same! The team with the most rift points at the end of the match wins.
Screenshots
[
]
Videos
[
]