Bloodspike
Information

Affiliation:

Unchained

Base HP:

600

Mana:

185

Primary Attack Type:

Melee

Primary Damage Type:

Physical

Speed:

???

Trap Affinity:

None

Cost in Store:

1250 or 9000
Bloodspike the Brutal is a playable Hero in Orcs Must Die! Unchained.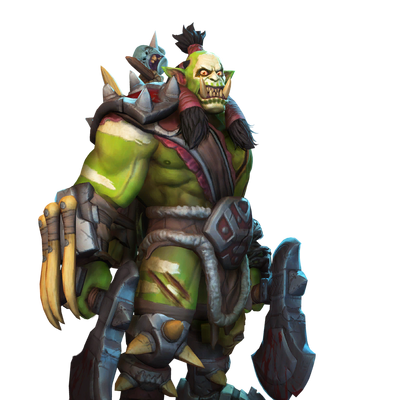 Description
[
]
Bloodspike uses his blades to maim and slaughter his enemies, which he then consumes to heal himself.
Character Bio
[
]
With an axe in both hands and murder in his eyes, Bloodspike will stop at nothing to win--even if winning means sacrificing his own minions to gain strength.
Lore
[
]
Extended Character Bio
Bloodspike's Balad
by N.E.Orc
Me standin on ta battlefield,
me hear ta call ta strike.
Axe a swingin, eyes a gleamin,
ere come Brutul Bloodspike.

An tho me scared me lead ta charge,
me shud not turn and run.
Cuz if me do, ol Bloodspike,
he shurly kick me bum.

Chorus:
So drank, and drank, and drank, bruther,
if Bloodspike pay yur bills.
Cuz if ya be a coward, bub,
then will be YOU he kills!

He has ta Bloodlust and anger,
but he a smarty orc,
He got plans an schemes an stratgies.
Him brains what make em work!

He mosly run us inta traps,
dat plan be him favrit.
If we no go him beatins be
Worse than we not make it.

Chorus:
So drank, and drank, and drank, me sistur,
if yur on ta front line.
Cuz if ya march fer ol Bloodspike,
it culd be yur last time!

I got me gripes gainst Bloodspike,
Me nevur sing him praise.
Fought fur him fur ten year.
He nevur give me raise!

But we wuld not be whar we are
if Bloodspike nun so brave.
Us orcs be in dat big wasteland,
Dis song sung in a cave!

Chorus:
So drank, and drank, and drank, me friends,
if Bloodspike yuh follo!
We won taday. We drank tanite!
Bloodspike's a real hero!
Bloodspike's a real herrooooooo!
Lore from Character Bio
In the Bios there is a story line, but a couple don't reference this story line. This is one of the cases. Lore summary from Bio:
This is a ballad written by N.E orc. Sings high praises for Bloodspike. I don't know whether it is based before or after OMD1+2. It is only going to get more complicated from now on.
You can also read about the Main Story Line or other Lore of the Orcs Must Die universe.
Abilities
[
]
| Icon | Type | Name | Description | Damage | Cost | Cooldown (s) | Notes |
| --- | --- | --- | --- | --- | --- | --- | --- |
| | Passive | Bloodhungry | When Bloodspike kills a minion, they occasionally drop Delicious Meals which restore Bloodspike's health and reduce his cooldowns. | N/A | N/A | N/A | Reduces Bloodspike's active cooldowns by 5% per Meal. |
| | Primary | Brutal Axe | Bloodspike swings one of his axes, damaging enemies in front of him. | ??? | 0 | 0s | |
| | Secondary | Bloodbath | A melee attack that grants a Bloodbath stack for each enemy hit. Each stack buffs Bloodspike's attacks with +8% damage. Max 50 stacks. | ??? | 8 | 4s | |
| | Third | Stunning Execution | Executes a minion who then drops a Delicious Meal. Enemies in a radius around the execution are stunned. | ??? | 50 | 25s | |
| | Fourth | Maiming Blow | Bloodspike slams down both axes, sending out a saw-like shockwave that damages enemies in front of him. | ??? | 40 | 11s | |
| | Fifth | Homicidal Frenzy | A battle cry temporarily buffs Bloodspike with +50% attack and movement speed. It also increases his health. | 0 | 30 | 35s | Increases his health by 40%. Duration: 6s. |
Upgrades
[
]
Vanity
[
]
Hero Related Achievements
[
]
Quotes
[
]
Orc Archer - "If we can't beat it, SHOOT IT FULL OF HOLES ANYWAY!" - Bloodspike, the Brutal
Light Orcs - "Do they come in six packs?" - Bloodspike, the Brutal
Execution Trigger - "How... Efficient." - Bloodspike, the Brutal

Hero Voice Lines
[
]
Gallery
[
]
Guides
[
]