Blackpaw
Information

Affiliation:

Unchained

Base HP:

341

Mana:

175

Primary Attack Type:

Melee

Primary Damage Type:

Physical

Speed:

???

Difficulty:

???

Trap Affinity:

None

Cost in Store:

Free
Blackpaw the Vindicator of the Dead is a playable Hero in Orcs Must Die! Unchained.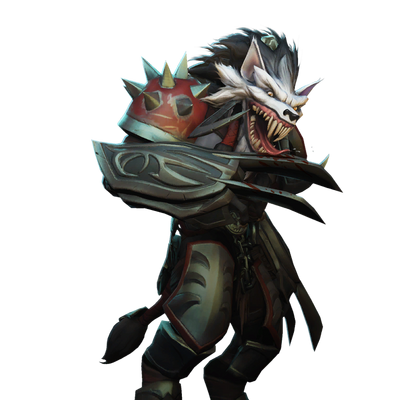 Description
[
]
Blackpaw has a ferocious bite and razor-sharp claws. As a melee hero, he can take quite a bit of damage, but can jump away when necessary.
Character Bio
[
]
Blackpaw hunts for the glory of his lost pack. Using his claws and fangs, he eviscerates his enemies and loyally protects his allies.
Lore
[
]
Extended Character Bio
The Wulfhawkinman Enthusiasts' Official Newsletter No. 456 From: Pres. Perrell To: Our Loyal Subscribers
Salutations, fellow truth finders!
Exciting news about the Wulfhawkinman! Everyone's favorite wolf-hawk-chicken-man monster has been sighted near the Order Academy.
According to the witness, he was "man sized, about eighteen hands tall or just under" and was sighted leaving the Academy's chicken coops. He was also reported as yelling "Let my feathered people go!" over and over again. The Wulfhawkinman reportedly made off with a chicken, and was covered in feathers and straw. The witness also said he saw the Wulfhawkinman dance and do the splits. Amazing!
I spoke to fellow Stalker and Order leader, Master Cygnus, about the incident, and he told me it was not the Wulfhawkinman but instead a "…troublesome member of his faculty who had gotten into the wine cellar without permission," and that the "…situation had already been dealt with." Cygnus said that the man he believed was the culprit would be refilling all the Order torches this week as "recompense."
Poor guy. I have great respect for Cygnus, but I believe in my heart that there is still a Wulfhawkinman on Order Academy property. Hopefully, we'll have other sightings soon!
In the meantime, please read on for Wulfhawkinman-themed St. Helgin's Day recipes from Rimwelda, our lovely and creative Treasurer, and the riveting Wulfhawkinman fanfiction "My Fine Furry Feathered Savior" from yours truly, President Perrell!
Enjoy, and remember: the truth IS out there!
Warmest Regards, Pres. Perrell
Wulfhawkinman Stalkin': The Wulfhawkinman Enthusiasts' Official Newsletter No. 457 From: Pres. Perrell To: Our Loyal Subscribers
Fantastic news, everyone!
There have been more reports of the Wulfhawkinman in the northern town of Weston-under-Mountain. Witnesses have described the creature as "the size of a man but covered in fur" with a "wolf-like" face and "sharp claws." Now, does this closely resemble our man-headed, wolf-legged, hawk-winged, and chicken-posteriored Wulfhawkinman? No, but eye witness accounts are usually not reliable, especially in the dark--and all sightings have been at night.
I'm hopeful, my faithful friends! I am packing my bags for Weston-under-Mountain as we speak. I'm going to go and investigate these sightings personally. In the meantime, please direct inquiries to Rimwelda who will forward them on to me.
Included with this issue are artistic renderings of the Weston-under-Mountain sightings drawn by me, a pattern for a very warming Wulfhawkinman quilt for the winter from Rimwelda, and my heart-wrenching Wulfhawkinman fanfiction "Love in the (Fur)st Degree."
Don't forget to pay your dues!
Fondly, Pres. Perrell
Wulfhawkinman Stalkin': The Wulfhawkinman Enthusiasts' Official Newsletter No. 458 From: Pres. Perrell To: Our Loyal Subscribers
Glad tidings from the field!
My hands are trembling as I write this. I have made contact with the Wulfhawkinman! I put on my Wulfhawkinman costume a few nights ago, and in the moonlight, there he was! I ran for him, making the clucking, barking, yodel call of the Wulfhawkinman. He stopped and looked in my direction. All I could see were his glowing, wolf-like eyes. I called again and he pounced on me--and SPOKE! He asked, "Are you part of their pack? You don't smell like their pack." I told him I was part of his pack. He seemed sad and said, "My pack is dead." Then he was gone.
My eyes are full of tears! He's the last Wulfhawkinman. No wonder there are so few sightings.
Those fools in town tried to keep me from going. They believe that the Wulfhawkinman is instead this creature named Blackpaw the "Vindicator of the Dead." They are blaming him for several mauling deaths in the area. The local Cult of Death says this "Blackpaw" is targeting them because of their ritual gnoll sacrifices. They believe that gnolls are the underworld's gatekeepers and that killing one leaves the "gate" open for a short time, allowing them to commune with Death. The Cult of Death's numbers have increased so much, gnoll numbers have gone down.
But who cares about gnolls? The Wulfhawkinman is in peril! I see that all seven of our subscribers live within a few hours ride of Weston-under-Mountain. Come join me! We must band together and capture the last Wulfhawkinman to preserve his legacy! If you'd like to come "stalkin'" with me in Weston-under-Mountain, please send a note to Rimwelda. I'd like to meet sometime before the next newsletter so that we can broadcast our findings.
I've been so inspired by my meeting that I've penned two new fanfictions, "Dances with Wulfhawkinman" and "The Last Wulfhawkinman Standing," for this issue. Rimwelda has also whipped up a lovely new beverage recipe she likes to call "The Hair of the Wulfhawkinman."
Sounds good to me!
Hope to see you all in Weston-under-Mountain, Pres. Perrell
Wulfhawkinman Stalkin': The Wulfhawkinman Enthusiasts' Official Newsletter No. 459 From: Treasurer Rimwelda To: Our Loyal Subscribers
Hello Everyone,
Rimwelda here! This may not be a surprise for many of you (the turnout at Weston-under-Mountain was nearly 100%), but Perrell, unfortunately, is no longer with us.
It's such a shame. We were all out in our costumes trying to find the Wulfhawkinman together (with help from the Cult of the Death), but we came upon Blackpaw instead.
We weren't ready for a fight, but thank goodness the Cult was! All those crossbow bolts and magic slinging… It was quite exciting. But we couldn't convince Perrell that Blackpaw wasn't the Wulfhawkinman. He loved the Wulfhawkinman so much that he tried to shield Blackpaw from the Cult of Death and was killed. Blackpaw got away, but when the magical fires died down and the smoke cleared, there wasn't much more of Perrell but costume feathers and a few teeth.
Poor Perrell... But at least he died doing what he loved best: stalking the Wulfhawkinman! There will be a memorial for him this week in Weston-under-Mountain, if any of you would like to attend.
I don't know what Perrell's last wishes were, but I'm sure he would have wanted the newsletter to go on. That being said, I think a change is in order. The newsletter was always rather silly, wasn't it? Perrell's fanfiction certainly was anyway (Riftmaker rest his soul, of course). Instead, why don't we all get together in Weston-under-Mountain? The Cult of Death's High Priest, Stallid, has volunteered a meeting room for us to use each month. Wouldn't that be lovely? We could have a potluck!
If you would like to attend, please let me know one week hence. The meeting will be on the first of each month--just like the newsletter!
Love to all of you, Rimwelda
Lore from Character Bio
In the Bios there is a story line, but a couple don't reference this story line. This is one of the cases. Lore summary from Bio:
This is copies of the Wulfhawkinman Enthusiasts Official Newsletter. It starts off by referencing Maximilians Bio with the incident of him releasing all the chickens (Maxmilians punishment is refilling all the order torches). We also find out that Cygnus is a subscriber to the newsletter. (This is also mentioned in Cygnus' bio) Perrell the president of the fan club, follows news reports to Weston-under-mountain trying to find the mythical creature known as the Wulfhawkinman. Weston-under-mountain lies under castle Weston (AKA: Highlands). Perrell then encounters the source of the newsletter, Blackpaw. Blackpaw is attacking members of the cult of death (see Oziels Bio) for killing gnolls. Perrell is convinced that Blackpaw is a Wulfhawkinman. So Perrell organises a meeting of nearby members of the fan club. To find and capture Blackpaw to protect the Wulfhawkinman race from dying out. (We aren't told if Cygnus is one of these nearby members, although in the OMDU tutorial Cygnus is in Castle Weston being attacked by orcs). The fan club then decide to team up with the cult of death to capture Blackpaw. They stumble into Blackpaw, and the cult of death start shooting Blackpaw. Perrell decides to protect Blackpaw from the cult of death and dies as a result. Blackpaw escapes and goes missing. Based after OMD 1.

You can also read about the Main Story Line or other Lore of the Orcs Must Die universe.
Abilities
[
]
| Icon | Type | Name | Description | Damage | Cost | Cooldown (s) | Notes |
| --- | --- | --- | --- | --- | --- | --- | --- |
| | Passive | Pounce | Blackpaw can double jump to leap forward. This ability costs mana. | N/A | 15 | 0s | |
| | Primary | Slashing Claws | Blackpaw slashes enemies with a melee attack that deals physical damage in an arc. | ??? | 0 | 0s | |
| | Secondary | Wound the Prey | Blackpaw wounds the enemy. Blackpaw deals +250% damage until the Wound debuff expires. | ??? | 15 | 5s | It can stack on an enemy multiple times. Duration: 5s. |
| | Third | Call to the Beyond | Summons 2 undead gnolls that target enemies and prioritize those that are wounded. | 0 | 50 | 70s | Duration: 10s. |
| | Fourth | Go for the Throat | Blackpaw bites an enemy, dealing high damage and recovering health. | ??? | 15 | 6s | |
Upgrades
[
]
Vanity
[
]
Detailed View
| Vanity | Preview | Description | Obtained In | Cost |
| --- | --- | --- | --- | --- |
| Blackpaw Epic Heroic Dye | | Second Dye that can be applied to all Skins of the hero. | Grand Vanity Chest | 750 |
| Blackpaw Legendary Heroic Dye | | Third Dye that can be applied to all Skins of the hero. | Starter Hero Vanity Chest | 500 |
| Blackpaw Vindicator of the Dead | | Blackpaw hunts for the glory of his lost pack. Using his claws and fangs, he eviscerates his enemies and loyally protects his allies. | By Default | N/A |
| Blackpaw Blackscale | | "There is no Blackpaw... only BlackSCALE" - Blackpaw, Vindicator of the Dead | Referer Program | N/A |
| Blackpaw Dragon Thrall | | "Everlasting, I cannot be killed!" - Blackpaw, Vindicator of the Dead | Premium Shoppe | 7500 |
| Blackpaw Enchanted Armor | | "Now, I am ready. My pack will be AVENGED!" - Blackpaw, Vindicator of the Dead | Founder Pack (Alpha phase) | N/A |
| Blackpaw Paw of the Dead | | "Reach out and touch DEATH." - Blackpaw, Vindicator of the Dead | Store | 850 |
| Blackpaw Pride of the Pack | | "I am the god of slaughter!" - Blackpaw, Vindicator of the Dead | Starter Hero Vanity Chest | 500 |
| Blackpaw Runeclaw | | "Runes are good. They make my claws sharp and eyes SHARPER!" - Blackpaw, Vindicator of the Dead | Starter Hero Vanity Chest | 500 |
| Blackpaw Tutu D'Loo | | "Pretty, pretty... Dancey, dancey... Killy, killy... Heh heh heh!" - Blackpaw, Vindicator of the Dead | Grand Vanity Chest | 750 |
Hero Related Achievements
[
]
Quotes
[
]
Gnoll Hunters "I long to run with my pack once more. But until we reunite in death, I will AVENGE them!" - Blackpaw, Vindicator of the Dead
Hero Voice Lines
[
]
Gallery
[
]
Guides
[
]